MILITARY & VETERAN PROGRAM
MILITARY FRIENDLY EMPLOYER
Melton is proud to be named a Gold Military Friendly® Employer Award recipient for 2023. For more than a decade, Military Friendly® ratings have set the standard for companies demonstrating positive employment & education outcomes for military members, transitioning veterans, and their families.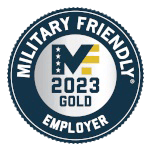 APPRENTICESHIPS & CDL TRAINING FOR VETERANS
With over 30% of Melton employees having served in the military, we are always looking to hire veterans and active-duty reservists.
Melton veteran driving jobs offer a state-of-the-art pre-employment evaluation program, apprenticeships, and a great career for any veteran that enjoys a culture focusing on teamwork, discipline, and dedication. Our extensive programs and veteran resources make Melton one of the best truck driving companies for veterans.
"When researching companies, I heard a lot of drivers talk about how great Melton was. They have good medical benefits, a great family atmosphere, and are great with veterans. This caught my attention because I was in the Air Force for 24 years. So, I spoke with a veteran recruiter who got me started in their training program. I can't express how great it's been leaving the Air Force and being able to jump into this new career."
Melton is proud to offer former military members and active-duty reservists the opportunity to use their GI Bill® benefits while enrolled in our training program recognized by the US Department of Veterans Affairs and the Department of Labor. The program is based on the Basic Allowance for Housing (BAH) in Birmingham, AL. Any GI-Bill eligible person with less than 20 months of driving experience could be eligible for this program. For example:
A veteran with full GI Bill® benefits with no driving experience coming to Melton could receive BAH starting at $1,578 per month from the VA over his/her first 2 years at Melton in addition to our Melton pay package!
A veteran with 19 months of experience and GI-Bill benefits could still be enrolled for 5 months to complete the program, and receive up to an additional $631 per month in BAH from the VA
By following this link, you can determine what your monthly benefit from the VA would be if you come to our company:
Enter your military history
Search for "Melton Truck Lines" in the school, employer, or training provider field.
Melton has a fleet of military themed trucks that bring awareness and recognition to Melton's military community. All Melton military members and veterans enjoy special decals for their trucks. We have a longstanding history of recruiting servicemen and women and helping with their transition back to civilian life.
Whether you are a military veteran or a driver looking for the next step in your career, we are looking for drivers like you to join our fleet and our family.
"Melton Truck Lines believes that it is our duty to provide America's veterans and transitioning service members with access to great careers in an industry where they fit in so well," said Bob Peterson, Melton Chairman and CEO. "We have found that the military culture and our company culture are linked with connection points that include the value of teamwork, discipline, dedication, and an adventurous spirit. With those shared values, servicemen and women are set up for incredible success with Melton, and we are excited to help them find their career with us."